IPA and the True Alphabetic Principle
Spelling and Sounds
Have you ever wondered why English has such a horrible spelling to sound conversion? For example, why do the "ou" sounds in "bought" and "though" sound completely different? A lot of it is historical and is not helpful for learning English. Luckily, there's a system we can use to transcribe words as sounds to make them easier to learn!
The True Alphabetic Principle
We want a system that adheres to the True Alphabetic Principle. It states that:
All sounds should have a unique symbol, and
Each symbol should correspond to exactly one sound.
To do this, linguists have introduced several different systems, but we'll be focusing on the most widely used one: the international phonetic alphabet (IPA). Each sound in the IPA is enclosed in [ ] brackets. If we want to talk about letters, we usually use " " or < > notation. For example, the last sound in "saves" is [z], but it is written as "s" or <s>.
The International Phonetic Alphabet (IPA)
The IPA looks daunting at first, so we'll go through each section step-by-step. It has its advantages though. It's separated into:
Consonants (Pulmonic): the sounds that have obstruction somewhere in the mouth with air going outward from the lungs.
Consonants (Non-Pulmonic): the sounds that have obstruction somewhere in the mouth, but airflow is directed in a different manner.
Vowels: the sounds that are shaped entirely by the tongue without any obstruction in the mouth.
Diacritics: small alterations to sounds that some native speakers make in different contexts.
Suprasegmentals: sound properties such as tone, stress, length, and pitch that are applied to words.
For example, we'll have a system that takes care of our "ou" issue in "bought" and "though". Now we'll be able to transcribe these words into sounds as [bɑt] and [ðoʊ] respectively. We don't have to worry about navigating through English spelling
Here is a list of all the IPA symbols we use in English along with some example words. Don't expect to master this now! We'll go through piece-by-piece learning how to produce these sounds and how they're described.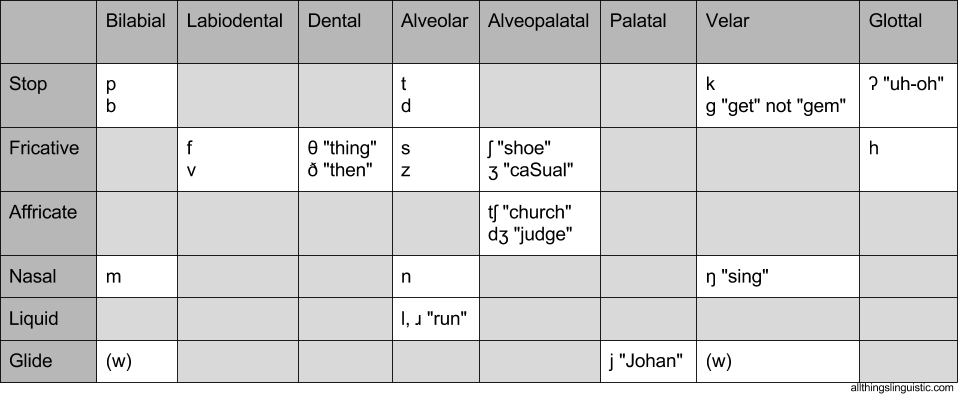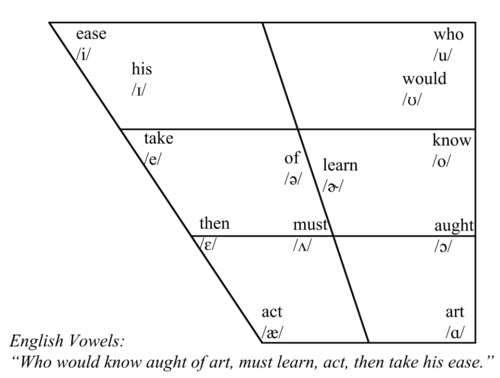 Complete and Continue